Resource Center
10 May 2014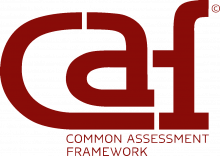 CAF (The Common Assessment Framework) is an European instrument for organizational improvement, designed specifically for the needs of public sector organizations. European Commission recommends the Member States to implement the tool in the structures of public administration because of its serious advantages. On the one hand it is a comprehensive tool that covers various aspects of organizational mechanism of administration and contribute to quality improvement. On the other hand - it's affordable and easy model widely used in public organizations at European, national, regional and local level that requires no special financial resources at its introduction. The implementation of CAF as the first European model of quality management in public administrations began in 2000 as more than 4,000 organizations in over 50 countries / countries of the European Union and beyond / use this tool nowadays.
The development strategy of the state administration in Bulgaria 2014-2020 puts a priority focus on the widespread introduction of systems for quality management, including the European common framework for self-assessment - CAF in the Bulgarian administration as a tool for improving management efficiency ( see attached sample).
Under this priority the Institute of Public Administration in 2014 began construction of a national unit of information, training and advice on the implementation and application of the European model CAF. Formation and development of the national resource unit was supported by a project of the Institute of OPAC. In 2014 in the frames of the project was conducted training of Bulgarian team for European CAF model at the European Institute of Public Administration  (EIPA) in Maastricht, the Netherlands, where is situated the European Resource CAF Centre. Trained experts team of IPA developed a new training program for CAF model and mechanism for its implementation in Bulgaria.
The functions of the National Resource CAF unit are:
to be a national center for information and introduction of the structures of the Bulgarian administration with the European model CAF;
to popularize it and to contribute it to increase Bulgarian officials of the possibility of deployment of CAF models in Bulgarian institutions;
to conduct training for the European model of quality management CAF and the process of implementation and enforcement in the Bulgarian administration;
to organize various forums, conferences and discussions on the European model of quality management CAF and its implementation in Bulgaria;
to be a national center for consultation of interested Bulgarian institutions in the implementation and application of that model;
to monitor and to popularize best practices in the implementation and application of SAF models in municipal, territorial and central administration in Bulgaria;
to conduct surveys and researches on the implementation and effectiveness of the CAF model in the Bulgarian administration and summarizes Bulgarian practices;
to develop the capacity of Bulgarian experts, trainers and consultants for the European CAF model;
to support the work of the European network of national representatives and users of CAF model in the public sector;
to develop cooperation with the CAF resource center and national resource centers for CAF in other countries.